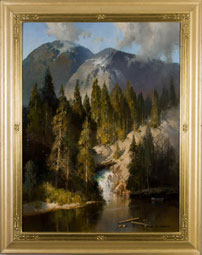 Welcome to Union Gallery
It is easy to get lost in the beauty of fine art, much as it is easy to get lost in the history of Lambertville, NJ. At Union Gallery, we feel that beauty and history go hand in hand, which is why we wanted to bring exceptional art from both national and regional painters to collectors visiting Lambertville, NJ, as well as New Hope and Bucks County, PA. Since 1975, our Proprietor, Charles Buttaci, has shared his passion for fine art with the public. Possessing an eye for detail and artistic elegance, he selects pieces that coincide seamlessly with the thriving Lambertville, NJ art scene.
Fine Art For the Novice & Experienced Collector
If you are new to fine art collecting, or are looking to expand your collection, you will find our extensive inventory prefect for both the novice and experienced collector. Our staff of knowledgeable consultants are always available to assist you during the selection process so that you find a work of art that suits both your needs and personal taste.
Visit Us Today in Lambertville, NJ
Union Gallery is located in the heart of Lambertville NJ, right across the bridge from New Hope, and the surrounding Bucks County, PA area. So come and enjoy all that this river town has to offer from exquisite fine art and antiques to delicious dining and unique shopping. To learn more about our featured artists or to visit us in gorgeous Lambertville, NJ, please feel free to contact us today at 609-397-2046.