Artists
Union Gallery specializes in American representational and impressionist art by regional and nationally recognized painters. Whether you are a seasoned collector or seeking your first original work, experienced gallery consultants are available to help with your selection from an extensive inventory.
Artists in Alphabetical Order
(Click on the artist name or image to preview currently available work.)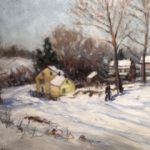 Walter Emerson Baum
Walter Emerson Baum (1884-1956) is a beloved name in the Lehigh Valley and his artistic reputation was well established in Pennsylvania at his death in 1956. Known as a Bucks County Impressionist, Baum was one of the few artists associated with this group who was born in Bucks County.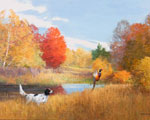 Roger Blum
Blum's love of wildlife began in Watsonville, California, where he spent much of his youth hunting, fishing, and exploring the natural world around him. These experiences, his exposure to Winslow Homer and studies with two master painters (Tom Nicholas, NA, AWS and Vernon Nye AWS) influenced his artistic pursuits toward upland sports. Blum has garnered several awards and graced the covers of sporting periodicals as well as Yankee Magazine and LL Bean Catalogues.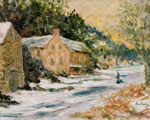 Evelyn Faherty
Influenced by her mentors, Harry Leith-Ross, Ben Solowey and John Folinsbee, Faherty is one of the few artists still painting who has direct ties to the original Bucks County Impressionist Group. Schooled at the Moore Institute of Art in Philadelphia, Faherty went on to win regional acclaim for depictions of her "beloved" Delaware River and canal with a Bucks county style, palette and composition.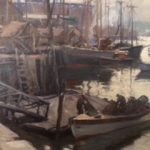 Emile A. Gruppe
a Cape Ann artist (1896-1978) influenced by the French Impressionists, he is best known for his landscapes, marine paintings and establishing the Gloucester School of Painting with his mentor John Carlson.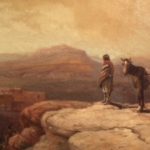 Raphael Lillywhite
Raphael Lillywhite (1891-1958) was active/lived in Colorado, Wyoming and Arizona.  He is known for frontier Indian genre and landscape paintings.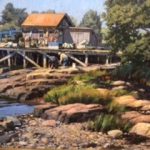 T.M. Nicholas
T.M. Nicholas is one of the most prominent painters of his generation. His first artistic honor, won at the age of 19, set him on a trajectory toward critical acclaim for his impressionist landscapes that continues to today. He has been featured in over 15 publications, including The Art Collector, and has secured over 75 awards. Nicholas is a native of Rockport, Massachusetts, who was raised in the art-rich environment of his father Tom Nicholas, NA, AWS.
Tom Nicholas, NA, AWS
Painting professionally for over half a century, Tom Nicholas has attained an esteemed position as one of the country's most widely recognized landscape painters. Tom is an Academician of the National Academy and a Dolphin Fellow of the American Watercolor Society. He has been honored with nearly 300 awards and has created 40 one-man shows throughout the country. His paintings are noted for their elegant composition, fine detail and romantic sensibility.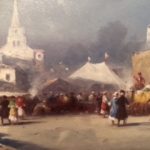 George Washington Nicholson
The landscape painter George Washington Nicholson (1832-1912) was active/lived in New Jersey and Pennsylvania.  He is known for landscape, genre, marine and historical paintings.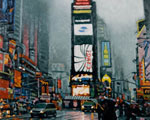 Miro Sinovcic
Sinovcic says of his work, "my paintings are what New York City is: a wonderful mess and a beautiful noise." He immigrated to the United States from Croatia where, after graduating the Zagreb Art Academy, he won international acclaim in Milan and Frankfurt for his work in publishing, advertising and motion pictures. Since coming to the United States in 1985, he has made a very successful transition to fine art with an innovative technique that makes his canvases burst with the life, energy and colors of the city.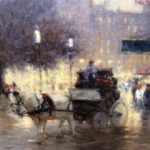 John Charles Terelak
John Charles Terelak (Born 1942) is an impressionist painter known for urban, marine and coastal landscape painting.  He received formal art instruction at the Vesper George School of Fine Art.  Terelak's love of paint and canvas and his thorough understanding of color theory and paint technique eventually led him to become headmaster of the Gloucester Academy of Fine Art.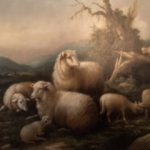 Susan Catherine Moore Waters
Susan Catherine Moore Waters (1823-1900) was a New Jersey artist known for naive portrait, animal-sheep and still life paintings.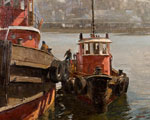 Jeff Weaver
An award winning painter from the Museum School in Boston, Weaver has painted waterfront scenes along the coast of Massachusetts since the 1960s. He is a sought after chronicler of the working waterfront and its environs. And while he works in the American realist tradition, he has noted that his work "is also influenced by developments in 20th century painting and its emphasis on gestural brushwork, line and compositional structure."
Additional Works on View at Union Gallery Include: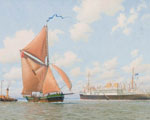 Stephen J. Card M.N.I. — an internationally famous marine painter and former Chief Officer and Queen's Harbor Master in Bermuda. Born in Bermuda in 1952, Stephen developed an early fascination with ships and the sea.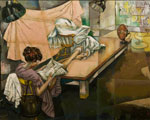 James Carlin — a New Jersey painter (1909-2006), stained-glass designer and teacher who regularly exhibited at the PAFA and the National Academy.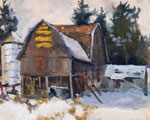 Don Grieger — a self-taught, plein air painter from Western NY, whose impressionist work has been recognized with over 30 regional awards.