About Us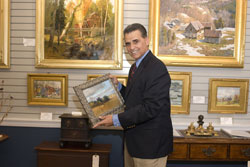 Since 1975, I have been pursuing my passion for finding excellent examples of fine art and antiques to share with the public. As one of Lambertville's original art and antique dealers, I was poised to open Union Gallery when our historic town began to redefine itself as an art center. It's been an invigorating adventure.
What keeps me excited about the business is the challenge of acquiring significant works of art by regional and nationally recognized painters and the satisfaction of helping clients choose the right one for them. Whether you are a seasoned collector or seeking your first original work, our experienced gallery consultants are available to help with your selection from our extensive inventory.
Collectors and decorators from around the world have found historic Lambertville a welcoming destination for a vibrant art scene, renowned restaurants and distinctive shopping. Visit us soon. You won't be disappointed.
Charles A. Buttaci
Proprietor